As year 2018 moves quickly along, Domenico and I (Monika), along with our collaborators, send you Summer greetings filled with gratitude for your partnership in the
Rachel's Vineyard Italy Mission
, on which we update you below.
We offer a special welcome to those in the
Knights of Columbus
and those in the
Italo-American
community who may just be finding out about the Italy Mission. Or perhaps you recently heard a Missions talk about our ministry. If the pioneering work you read about here stirs your interest and strikes you as
"good news"
, we'd love to hear from you!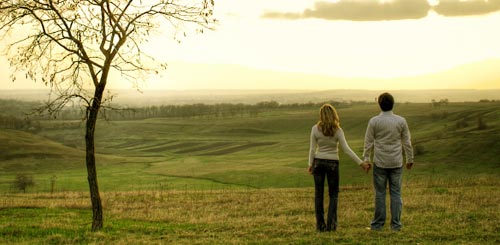 The year 2018 has been marked by unusual rhytms due to the loss of one of the Italy Mission's greatest fan, Monika's father Ray, whom we honor here with a photo and with the prayer from his Memorial card:

Ray Wilbur Rodman
15 April 1932 - 18 May 2018


May the Lord support us all the day long,
till the shades lengthen and the evening comes,
and the busy world is hushed, and the fever of life is over, and our work is done.
Then in His Mercy may He give us a safe lodging,
and a holy rest and peace at the last.

- Cardinal John Henry Newman

Is the
Italy Mission
new to you?
Perhaps you've never heard of after-abortion recovery & healing outreach?
As you consider supporting our work,
click here to read the brief history
of how we began!
Mini-POSTER: a 1-page summary of our work! (PDF)
Italy...DID YOU KNOW??
To make a donation to the Rachel's Vineyard Italy Mission,
simply click on the
Response Form
.
Or to
Donate by credit card
click below:
PayPal
(NOTE: Transaction will be executed in Euros and is
not
tax-deductible)
The year 2017 marked our 7th anniversary, yet sense our work has barely begun, as Italy's religious and secular cultures seem to just be awakening to the reality of after-abortion hurt, the need for healing and the real possibility of experiencing it.
Our
Fall 2017 retreat
was held on Thanksgiving weekend. While Italy has no such festivity,
Gratitude
is in fact one of the principal sentiments that our participants (both women and men) express for the companionship, community and concrete assistance they find in the
Rachel's Vineyard Italy Mission
, as they embark on or continue their journey toward healing after abortion.
One highlight of this last retreat was personal participation by a psychotherapist and 2 priests, including the past director of the Italian Bishops Conference Family Life Office. He has known us since before we began this work and to this day he remains one of the very few clergy to write publically on the need for post-abortion pastoral care. His encouragement of Domenico and me 8 years ago spurred us on to pioneer this work. Now his heartfelt personal participation in a retreat was not only both a gift to team and retreatants, but may well open up to closer collaboration and some
new initiatives in northeast Italy
.
Our team member from that area (herself a former participant after a late-term abortion following a poor prenatal diagnosis) is presently completing a 3-year counseling degree and is working to help us
pilot in 2018 the Weekly Support Group

version of the

Rachel's Vineyard

healing process,
which I led in the San Francisco Bay Area for years and which remains
a wonderful alternative for those who can't get away for a 3-day weekend experience
. This expanded curriculum is currently my priority translation project.
Year 2017
was about
much more than just healing retreats
, though!
Babies have been born to former participant couples, and one of our team members and her husband are currently working torward adopting a child.
Summer was a time of particularly intense activity, not only with a full July retreat, but with our
first-ever

participation in 2 marvelous
outreach opportunities:


In June we gave a workshop with a married couple (past retreat participants who shared their testimony) at the annual conference of the "Mistero Grande" marriage ministry, and also
offered for 3 days a much-visited info table
.
The name of this ministry is taken from St. Paul (Ephesians 5:32), who calls Christian marriage a "great mystery", referring to it as an ongoing incarnation of the love relationship between Christ and his Church, a relationship called to reflect that love and make it present in the world. This
pioneering marriage preparation and enrichment program
is an Italian inculturation of an Anglican initiative started in Britain. It has ecumenical ties, which are a unique blessing for Italy! One of our clergy collaborators
(pictured below)
is also active with this ministry and with
Retrouvaille
(an international program for marriages in crisis).
June 2017, Rome
Italy Mission leaders Monika and Domenico with priest Fr. Rito (blue shirt) and former participants,
a married couple, after our workshop given at the June 2017 "Mistero Grande"
Marriage Preparation and Enrichment National Conference
A couple attending the workshop that day, thanks to their priest's invitation,
participated in our July retreat after a late-term "therapeutic" abortion,
and our November retreat included another married couple who learned of us through the same conference.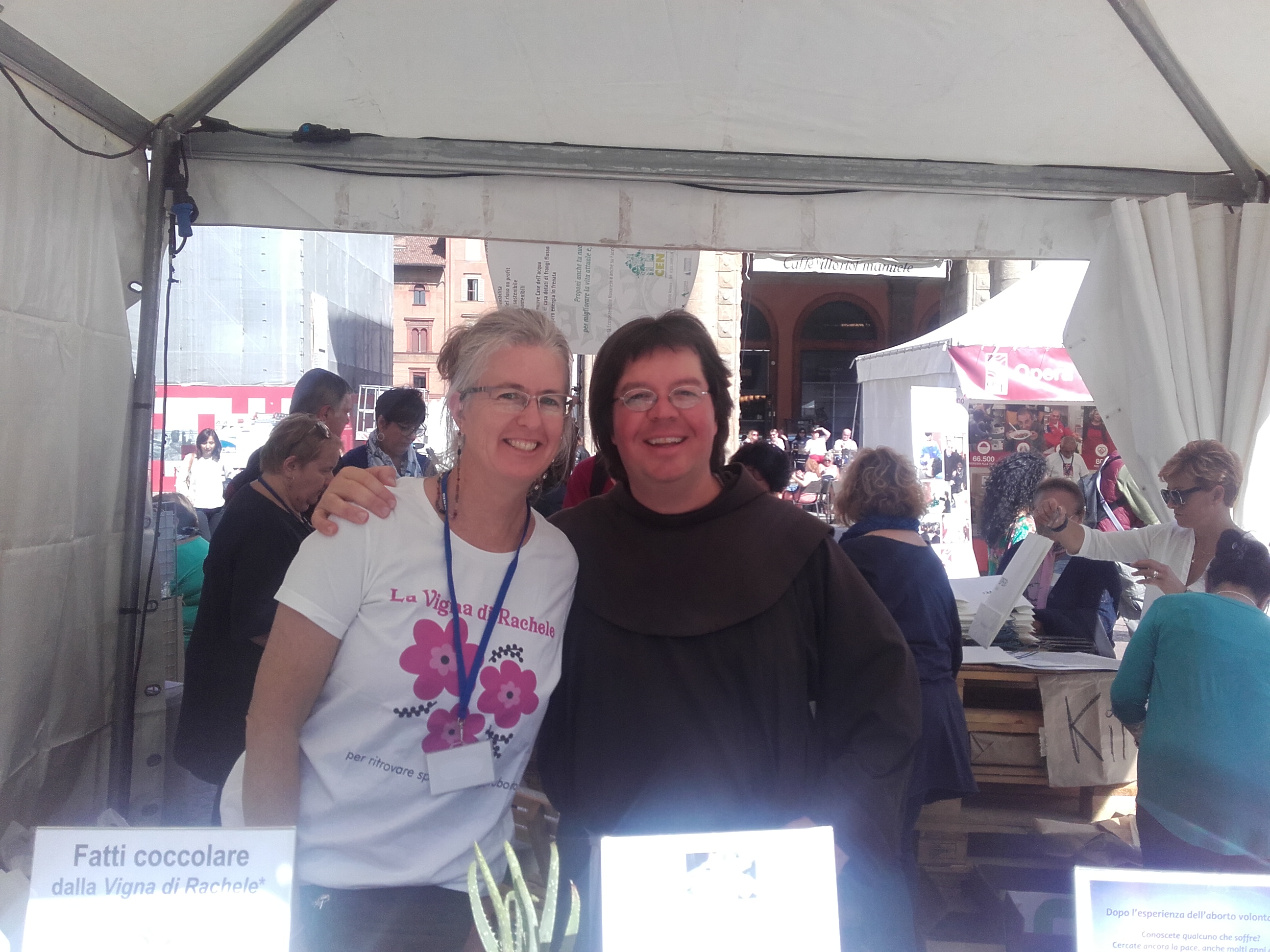 Italy Mission founder and director Monika Rodman Montanaro with our Franciscan collaborator, fra Daniele
September 2017

"We have been called to heal wounds, to unite what has fallen apart,
and to bring home those who have lost their way."
- St. Francis of Assisi
In
September
, thanks to another clergy collaborator (a Franciscan friar in Bologna pictured above) and the Poor Clare sisters in Bologna's city center, together with over 15 past participants who came from all over Italy we did a
3-day outreach at the huge Franciscan Festival in Bologna's Center Square, Piazza Maggiore
. For this event we developed new materials to reach the many attendees in this, Italy's most prominent university city (think Berkeley back in the 70's combined with today's organic, slow-food culture). The ethos there remains strongly anti-clerical, and while many reject "the Church" in favor of a hyper-secular social-welfare State, almost all love St. Francis as a symbol of a "different" sort of Christianity.
Our exhibit (twice this size on a highly visible corner) offered not only printed materials
but also a chance to be cared for with a drop of handcream or a spray of rosewater.
Our team of ambassadors (all former participants) often ended up speaking at length with passers-by,
who on numerous occasions were stunned that our volunteers had been through the abortion experience themselves
and were now willing to talk about it in such a way that might bring hope to others.
Monika and Domenico with past-participant ambassadors at Bologna's Franciscan Festival
(individuals, 2 married couples and a father-daughter team)
September 2017



Aerial view of Bologna, Italy
2017: New friends and a special farewell!

July 2017


Monika and Domenico meet the Poor Clares at their convent in Bologna's city center
before the July retreat

The sisters (here only 3 of the community's 8 women) are cloistered but by no means cut off from the world!
They helped sponsor our outreach at the September 2017 Franciscan Festival.
"Grazie, sorelle!"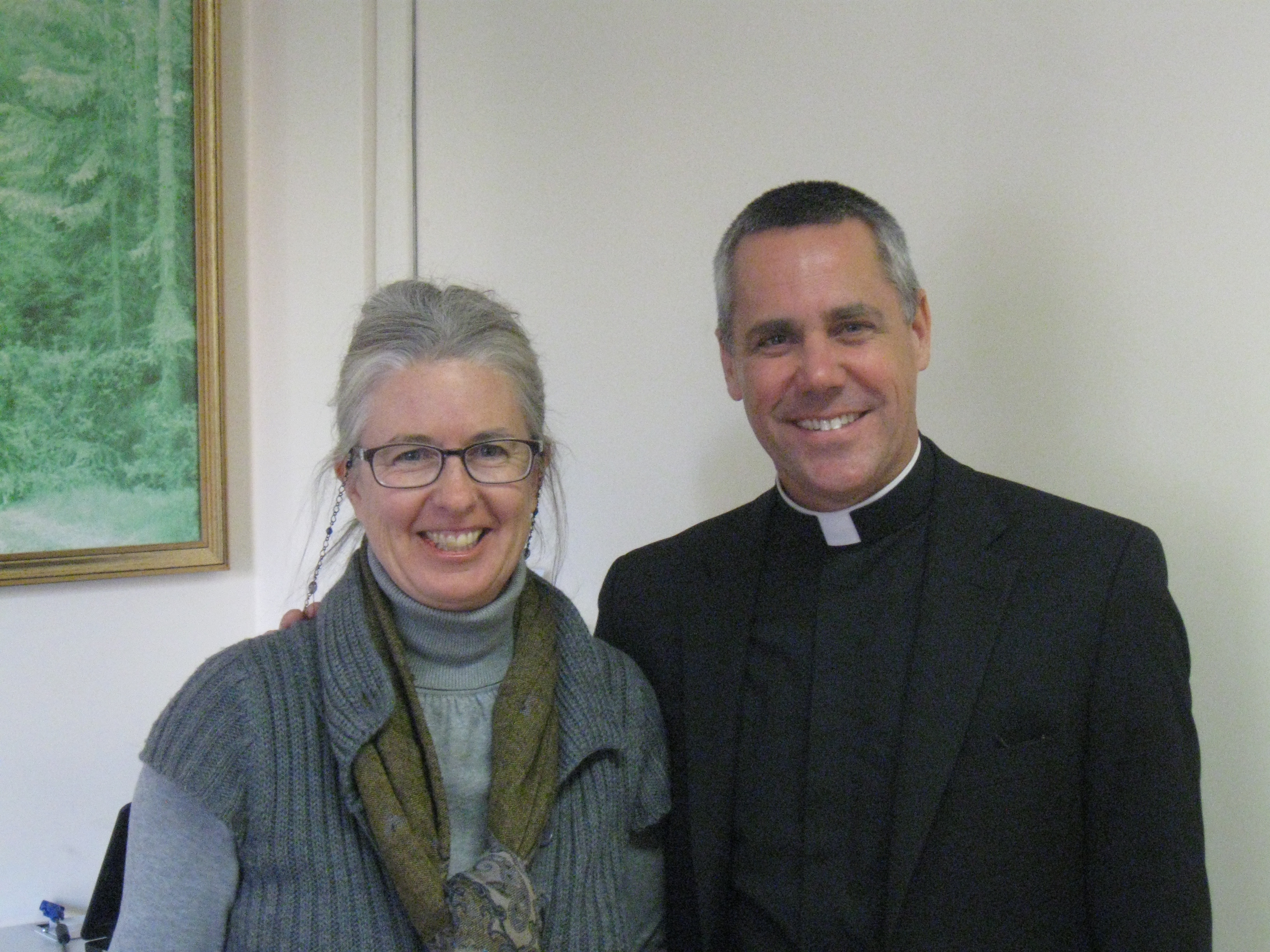 Mons. John Cihak
is a priest from the Archdiocese of Portland
who worked in Rome for over 8 years and returned Stateside at Christmas.
His extensive experience in post-abortion pastoral care
included participation in numerous
Rachel's Vineyard
retreats in Oregon.
Monika was annually invited to join him in speaking to Italian and international clergy
doing ongoing formation in family life ministry.
Thank you, Father John,
for your tremendous encouragement and support of our pioneering work here in Italy!
We will miss you greatly and wish you every grace and blessing as you return to serve in Oregon!



Looking for a Rachel's Vineyard Retreat in the U.S.??
Click here!
Other 2017 Italy Mission activities
The month of May marked our
3rd annual mission trip to Rome for a day of outreach at Italy's March for Life. The day was well worth the effort!
Several religious sisters (two of whom have also participated in our retreat) joined past participants (single and married) in distributing materials before, during and after the walk.
Rome, May 2017
The past participant in this photo that day told Domenico of physical healings
which she attributes to the inner healing experienced through Rachel's Vineyard.
Such stories are not uncommon.

One of the 2 religious sisters in the above photo is a psychologist and hopes to begin collaborating with us in 2018.


The former participant
in the above photo said that in the year since the retreat, her personal physician, whom she used to visit frequently with various problems, had run into her and joked she must have changed doctors because he'd not seen her for so long!
Such can be the remarkable effect of resolving old hurts such as abortion wounds, and we rejoice to hear such stories!
Having finally made peace with God, herself, and her never-born child, this former participant now radiates joy and tranquillity and is continuing with diligence the spiritual path on which she's embarked. She has also helped a couple of other ladies participate by offering financial aid for program fees.
March 2017 Rome seminar "The Experience of Abortion"
Italy Mission founder and director Monika Rodman Montanaro with 2 collaborators.
Several former participants of our program attended this public event and spoke of their experience.
In March 2017 a former retreat participant and one of our collaborating psychologists joined Monika for a
public event sponsored by Rome's John Paul II Institute for Marriage and Family
. Under a newly appointed president, the Institute is currently in transition, so the event represented an opportunity to continue cultivating our 5-year relationship with this graduate school that trains clergy and laity from Italy and other countries.
Ever wonder why??
You may notice we post very few photos
of our team members and participants.


We'd love to publish more,
but we are extremely respectful of people's privacy and
only publish photos if all subjects have agreed
for their image to appear on the internet. Many - even some of our most dedicated team members- understandably prefer to retain their anonymity.
While some past participants feel called to later speak publicly of their abortion experience and healing,
we never push such a move, but encourage prudent discernment of any such decision.
In February 2017 Monika was in California helping her father with medical treatments and took advantage of the opportunity to join
Rachel's Vineyard
foundress
Dr. Theresa Burke
, who came from Philadelphia to give two talks at the
Los Angeles Religious Education Congress
. The three days spent together offered a long overdue chance to share experiences and exchange ideas.
In the summer of 2017 Monika was blessed to be invited for a
missionary speaking engagement in San Diego
(her birthplace). The
reflection given at homily time at all 6 English and Spanish Masses
also became an occasion to promote the diocese's own long-active post-abortion healing ministry, and several women stayed after services or returned in the evening to speak about their own need to reconcile past abortions.
"Thank you" to the Diocese of San Diego Missions office
for allowing the work of the Rachel's Vineyard Italy Mission to be shared in 2016, 2017 and 2018!



Diocesan Missions Coop
Monika with fellow missioners and staff at San Diego's diocesan Missions Office, under the leadership of Fr. Joe Miller, SVD
What Pope Francis has said of "mission" work is certainly truly of the
Italy Mission
:
"Mission is never the fruit of a perfectly planned program or a well-organized manual.
Mission is always the fruit of a life which knows what it is to be found and healed, encountered and forgiven.
Mission is born of a constant experience of God's merciful anointing..."
- Pope Francis, 23 Sep 2015 Homily at the Canonization of Junipero Serra, father of the California missions
In the words of those we serve: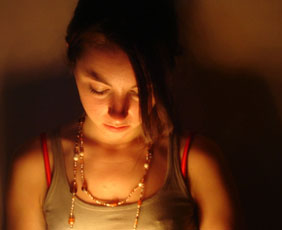 "The whole experience, while in some ways extremely difficult,
was unforgettably beautiful and went far above and beyond my expectations."
- A 2017 retreat participant
"I'd like to take part in your retreat to better be able to help the many women who confess this sin, this wound, this problem. With the Pope's authorization many people are deciding to confess it - here at our church (NB: a Marian pilgrimage site in N. Italy) we are seeing greatly increased numbers, including penitents who aborted 50 years ago and those who'd never confessed this before. I realize confession alone isn't sufficient, though. And I feel I don't know how to really help them because I see they need something more, something deeper that I can't offer them."


-
An Italian priest in his 50's
Milan
Our Dominican priest collaborator Fr. Cristiano is from Brasil but has served in Italy for over 25 years.
Despite having been transferred from Bologna, he continues his work with us.
Please read of one of the fruits of Fr. Cristiano's work:
Elena's Story
Fr. Cristiano serves at Milan's famous church, the Basilica of
Santa Maria delle Grazie
. It's most well known for being the home of Leonardo DaVinci's painting,
The Last Supper
, so many people think of this church as a tourist destination, but it's also a vibrant Christian community in an affluent Milan neighborhood (Domenico tells me the corporate offices of
Fendi
handbags face the basilica!).
Stumbling into a confessional at this very church in the summer of 2016,
Elena
met Fr. Cristiano and discovered the
Rachel's Vineyard
Italy Mission.
At age 53, but still mother to a young child, she was at the end of her rope trying to deal with a decades-delayed reaction to the trauma of an abortion undergone at age 16 plus the realization that the fertility clinic (in Spain) that had more than once used donated eggs to produce her 5 year-old daughter had also discarded multiple embryos. A breast cancer diagnosis and 2 years of treatment had lead her to reflect on all this in a new light.
Elena hadn't practiced the faith since her teen years. Her husband of 10 years was nearing the end of his patience with her emotional outbursts and psychological fragility, so Elena's only hope was to return to her psychotherapist (which we certainly didn't discourage).
She recalls:
"I entered Father Cristiano's church totally at the end of my rope. I was a wreck and I thought they were going to take my daughter from me. My husband didn't know how to help me - he was losing his patience for my yelling and other erratic behaviors. We were both exhausted and didn't know where to turn."
Fr. Cristiano spoke at length with Elena and told her about
Rachel's Vineyard
. She called us immediately and I had several lengthy phone conversations with her during the summer. Another post-abortive team member, who's also dealt with infertility, companioned her, as well.
One month after participating in the November 3-day retreat with her husband,
Elena wrote:

"The days in Bologna were a marvelous grace that has given me a new way of looking at my entire life.
If the Lord has taken me by the hand and brought me to to point of being able to meet all of you, it means that maybe I deserve another chance and I want with all my heart to seize it.
Alfredo and I feel very close and it seems to me we're finally looking in a common direction.
It's so beautiful to go to Mass on Sunday with our daughter, who, we've discovered, goes there with joy!
She also asks us to pray with her before bedtime.
.."
Early in 2017 the couple participated in the 4th day of their retreat and continued to reap the blessings of hope restored. Then Elena's husband was transferred to work in North Africa and the entire family made the move. Elena remains in contact with other women from her retreat and the family continues their practice of the Christian faith. Her husband sent a gift to help us with our Fall 2017 outreach at Bologna's Franciscan Festival. His brief message? "We will always be grateful to you!"



It's been your prayers and financial support, together with the remarkable commitment by our Italy retreat team (priests and past-participants) that have allowed us to reach those like Elena.
Your gift during 2018 will help us not only help individual women,
but offer marriage-saving help to families like Elena's!


Seven years after launching this Mission,
we remain Italy's
first and only
Christian post-abortion healing ministry
approved by the Catholic Church. While we operate with the blessing of one of Italy's most important dioceses (that of Bologna),
no Italian diocese, religious community, pro-life or other organization has yet stepped up to sponsor this Mission
. We are still a very small seed planted in a field of vast need, yet we are resolved to help this seed continue to grow, with your prayers and assistance!
The
Year 2018 Response Form
details how to make a
tax-deductible
Gift
to the
Rachel's Vineyard Italy Mission,
to be sent
by check
to my father, who will forward all gifts to Colorado.
Those who wish to make a
credit card donation
(and our few English-speaking friends here in Europe) may instead make a (
non
-tax-deductible
) donation to the Italy Mission by
PayPal
. Such a gift will be deposited
in Euros
directly into our Italian account dedicated
exclusively
to this apostolate.
In short,
we hope that in the Year 2018 you will renew - or begin - your partnership
in the
Rachel's Vineyard Italy Mission
!
To make a donation to the Rachel's Vineyard Italy Mission,
simply click on the
Response Form
.
Or to
Donate by credit card
click below:
PayPal
(NOTE: Transaction will be executed in Euros and is
not
tax-deductible)
Further reading: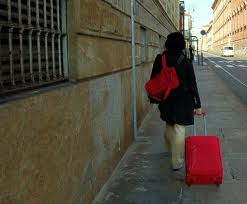 These words, by now well known in American Church and pro-life circles,
remain largely unknown here in Italy, even among clergy
. So much so that we continue to distribute a lovely postcard designed for posting on bulletin boards
at parishes and hospital chapels.
Reaching "Rachel" in Italy: The Cultural Context
PRAYER for the Italy Mission
Please share with friends and family!